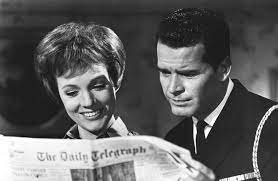 The Americanization of Emily

Live Zoom discussion: 7/28 @ 7:00 pm (CT)
You don't send a man to his death because you want a hero.

-William
Where can I watch?
What's it about?
American sailor Charlie Madison falls for a pretty Englishwoman while trying to avoid a senseless and dangerous D-Day mission concocted by a deranged admiral. (TMDB.com)
When is the live discussion?
Date: 7/28/2021
Time: 7:00 pm (CT)
Meeting ID: 886 0548 4256
Passcode: AFSrocks!
What if I don't want to (or can't) participate in the live discussion?
No worries! That's why we have a comment section down below. Leave your thoughts on the film down below, and get the ball rolling. We can't have a discussion without YOU. Whether it's during the live Zoom meeting, the comments down below, or even around our social media pages.
Do you have to be a member of the Aurora Film Society to participate?
Absolutely not! During these hard times, we want to connect with as many film lovers as we can, which is why anyone is welcome to join us discussing these films while we are operating online.
Is there really somebody asking you questions, or are you just asking yourself questions in one of those pseudo FAQ gimmicks?