The inaugural film for the 2018 season will be Chris Smith's American Movie , but we still need your help to determine what other movies we will see. What movies would you like to see in 2018?
Please note the following:
Voting is limited to members of the Aurora Film Society
A description for each movie is listed below the poll.
(The poll has been closed)
When We Were Kings (not scheduled for 2018)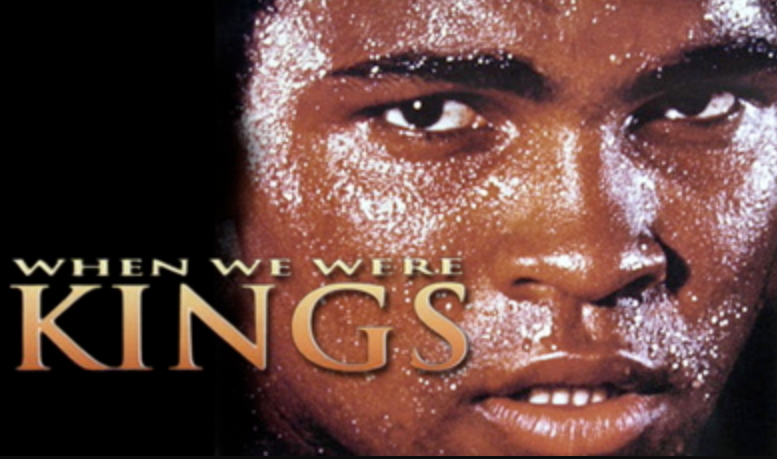 The heavyweight title fight between Muhammad Ali and George Foreman in Zaire on Oct. 30, 1974, "The Rumble in the Jungle" (Directed by Leon Gast) is enshrined as one of the great sports events of the century. It was also a cultural and political happening. Ali, then still controversial because of his decision to be a conscientious objector, and Foreman, now huggable and lovable in TV commercials but then seen as fearsome and forbidding. The odds were 7-1 against him (Ali). There is a palpable tension, as the two men step into the ring, that is not lessened because we know the outcome. – Ebert
Buck (not scheduled for 2018)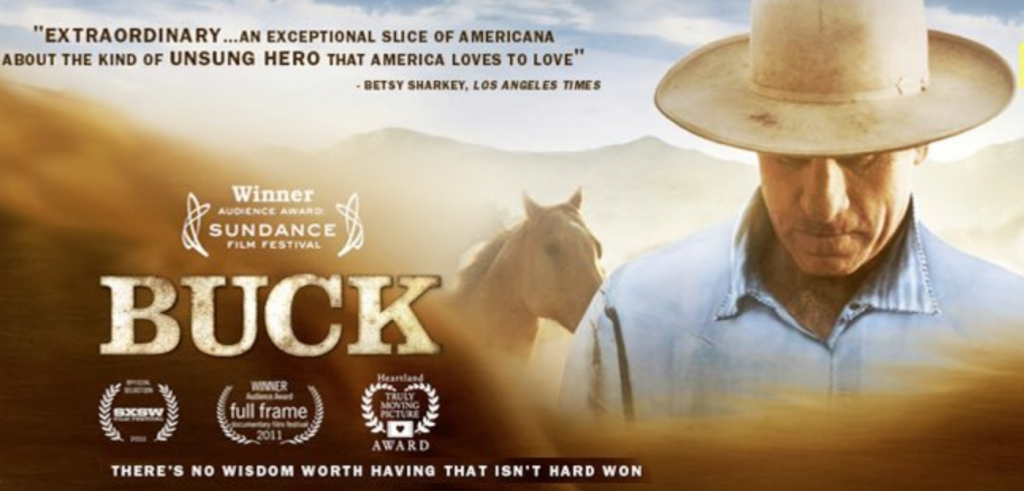 Buck Brannaman was the original "Horse Whisperer," the character who inspired Nicholas Sparks' novel and was hired by Robert Redford as on-set consultant for his 1998 film. He has a way with horses, and Cindy Meehl's documentary is moving as he shows them engaged in dances of understanding. W.G. Sebald once wrote, "Men and animals regard each other across a gulf of mutual incomprehension," but Buck and his animals seem to have bridged it. – Ebert
A Most Violent Year (not scheduled for 2018)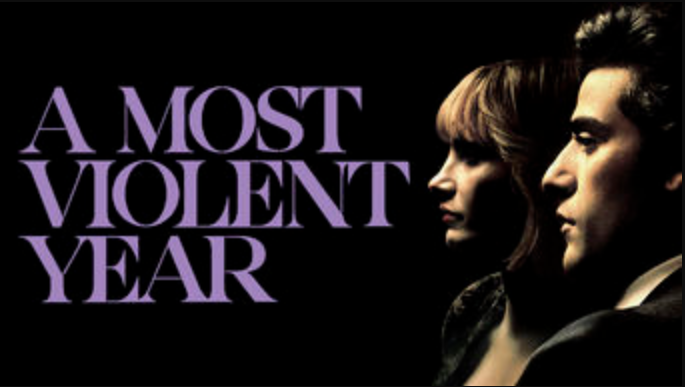 There's a kind of 1970s American movie that's catnip to directors. It's visually and thematically dark, and very male. There's talk of honor and integrity and tradition, of old ways passing and a meaner, pettier, more chaotic, new way taking its place. The hero, despite a certain reticence about selling what's left of his soul, soon figures out that to get ahead in this world, you have to be cold and calculating, and divest yourself of illusions.  "A Most Violent Year," a 1981 New York period piece written and directed by J.C. Chandor, is that kind of movie. Oh, boy, is it that kind of movie. – Ebert
American Movie (January 2018)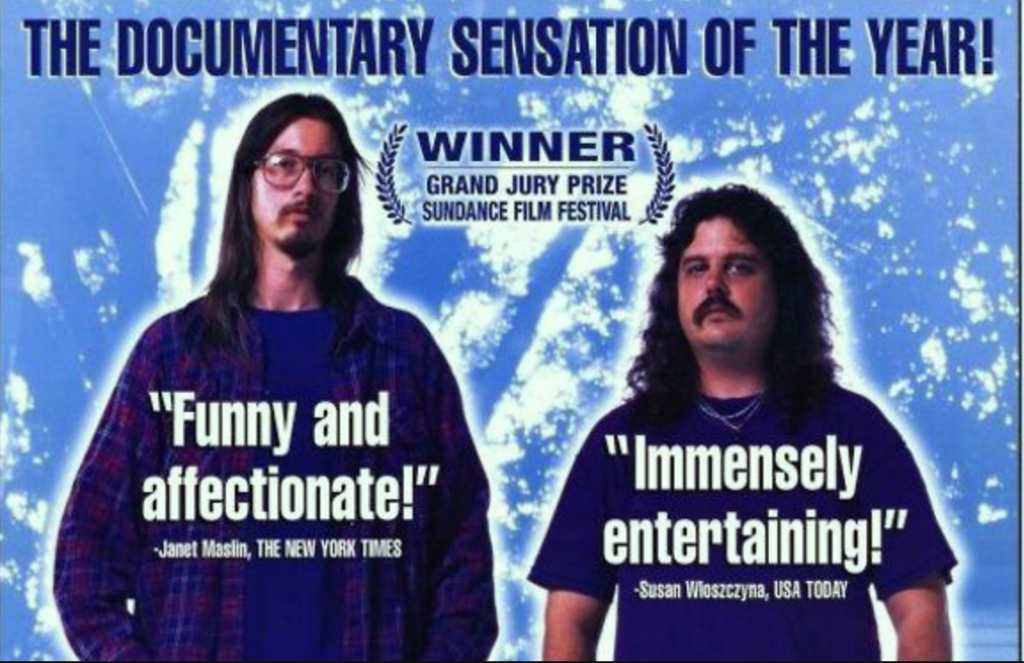 If you've ever wanted to make a movie, see "American Movie," a documentary about someone who wants to make a movie more than you do. Mark Borchardt may want to make a movie more than anyone else in the world. He is a 30-year-old, odd-job man from Menomonee Falls, Wis., who has been making movies since he was a teenager and dreams of an epic about his life, which will be titled "Northwestern," and be about "rust and decay." "American Movie" is a very funny, sometimes very sad documentary directed by Chris Smith, about Mark's life, his friends, his family, his films and his dreams. – Ebert
Dark City (October 2018)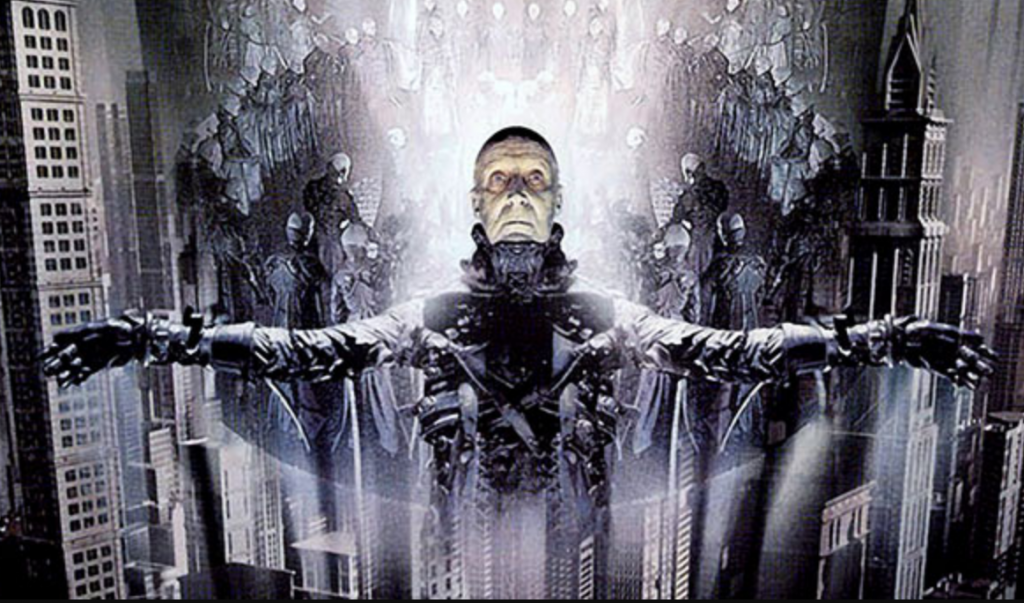 "Dark City" by Alex Proyas is a great visionary achievement, a film so original and exciting, it stirred my imagination like "Metropolis" and "2001: A Space Odyssey." If it is true, as the German director Werner Herzog believes, that we live in an age starved of new images, then "Dark City" is a film to nourish us. Not a story so much as an experience, it is a triumph of art direction, set design, cinematography, special effects–and imagination. – Ebert
Tampopo (March 2018)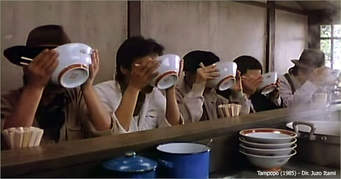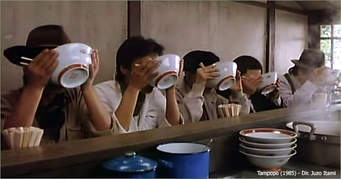 A Japanese Truck driver (Ken Watanabe) helps a pretty, young widow find the perfect recipe for her noodle shop. Along the way we meet some schoolgirls having spaghetti eating lessons, a gangster who uses his mistress as a serving platter and quite a few other characters who all have their own unique relationship with food.
Sundays And Cybele (not scheduled for 2018)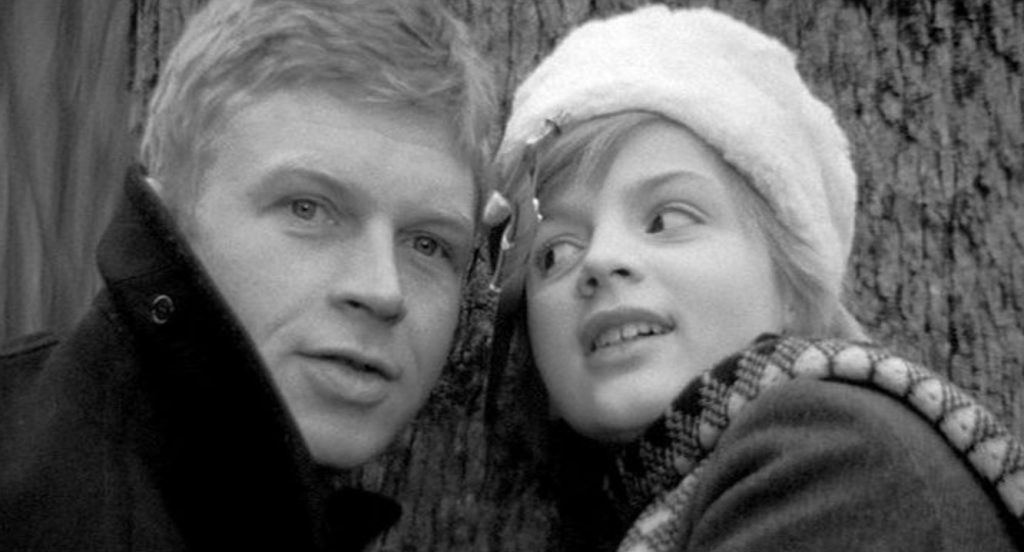 Pierre is a former pilot, haunted by the child he killed while serving in Viet Nam. Cybele is girl abandoned by her father at an orphanage. When they form a sweet and innocent friendship, the townsfolk imagine the worst. This film won the Academy Award for the best foreign film of 1962.
Coriolanus (TBD)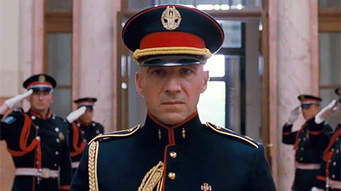 Ralph Fiennes made his directorial debut with this film in which he also stars as Coriolanus. Coriolanus is a military hero who gets mixed up in politics. He quickly turns from lauded hero to accused traitor. Were it not for the language, this muscular, modern rendition of a lesser Shakespeare play, would seem to have been ripped from today's headlines.
Picnic at Hanging Rock (not scheduled for 2018)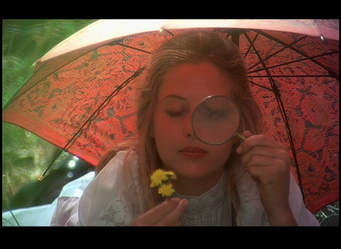 Set in 1900 Australia, a group of Australian school girls goes on an outing to Hanging Rock. At the end of the day three of the girls and a teacher are missing. Teachers blame each other, girls blame themselves, search parties go out and a boy enamored of one of the girls, desperately searches on his own.
Mon Oncle (November 2018)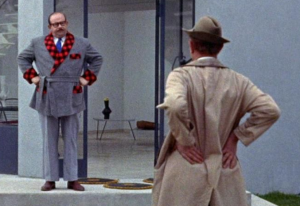 Jacques Tati is the great philosophical tinkerer of comedy, taking meticulous care to arrange his films so that they unfold in a series of revelations and effortless delights. Hulot was the hero of "Monsieur Hulot's Holiday," but in "Mon Oncle," he is a lost soul, unemployed, bemused and confused by the modern world. His sister Madame Arpel (Adrienne Servantie) believes she can help him. She lives with her husband Monsieur Arpel (Jean-Pierre Zolla) and their young son Gerard (Alain Becourt) in a futuristic architectural monstrosity, and a great deal of the movie's time is spent exploring their cold new world. – Ebert
The Apartment (December 2018)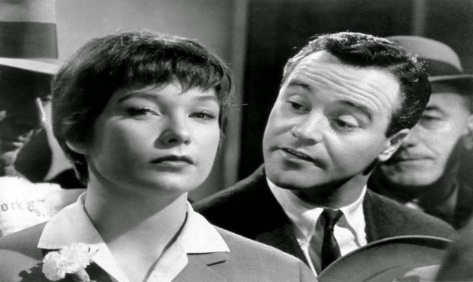 Jack Lemmon plays C.C. Baxter, a definitive lonely guy, in "The Apartment," with the ironic twist that he is not even free to go home alone, because his apartment is usually loaned out to one of the executives at his company. He has become the landlord for a series of their illicit affairs; they string him along with hints about raises and promotions. His neighbor Dr. Dreyfuss (Jack Kruschen) hears the nightly sounds of passion through the wall and thinks Baxter is a tireless lover, when in fact Baxter is pacing the sidewalk out in front, looking up resentfully at his own lighted window. – Ebert
M (May 2018)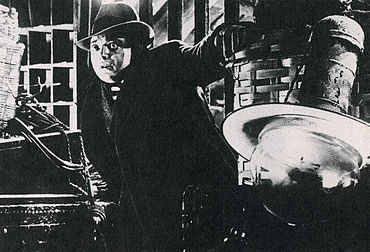 "M" is a portrait of a diseased society, one that seems even more decadent than the other portraits of Berlin in the 1930s; its characters have no virtues and lack even attractive vices. In other stories of the time we see nightclubs, champagne, sex and perversion. When "M" visits a bar, it is to show closeups of greasy sausages, spilled beer, rotten cheese and stale cigar butts.
The film's story was inspired by the career of a serial killer in Dusseldorf. In "M," Franz Becker preys on children — offering them candy and friendship, and then killing them. The murders are all offscreen, and Lang suggests the first one with a classic montage including the little victim's empty dinner plate, her mother calling frantically down an empty spiral staircase, and her balloon–bought for her by the killer–caught in electric wires. – Ebert
The Killing (not scheduled for 2018)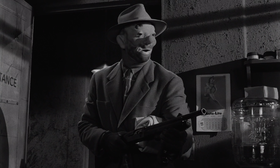 This is a heist movie. Like horror films, heists are a genre that make stars not so necessary. The durable form inspires directors to create plots that are baffling in their complexity or bold in their simplicity. Kubrick's plan here for a race track robbery involves two of those plot aspects; not so much the acrobatics. His narrative approach seems blunt, but the narrative itself is so labyrinthine we abandon any hope of trying to piece it together and just abandon ourselves to letting it happen. We feel in safe hands. – Ebert
The Fits (April 2018)

We hear her counting reps under her breath before we see her doing them, 25 sit-ups in all, hands clasped behind head, radiant face to the camera, an 11-year-old named Toni—played by a dazzling youngster named Royalty Hightower—going up and down and up and down with ferocious determination. That's the opening shot of "The Fits," and it goes on and on for almost a minute, announcing a movie that could be really boring or something special. In fact, this feature by Anna Rose Holmer is so special that words can't do it justice, and for good reason. Movement is its subject. Eager kids with fantastic moves and the urge to dance make up its cast. All ups with no downs, it's a motion picture in the truest sense of the term. I've never seen anything quite like it and I loved every one of its 72 minutes. -Morgenstern
Jeff Who Lives at Home (not scheduled for 2018)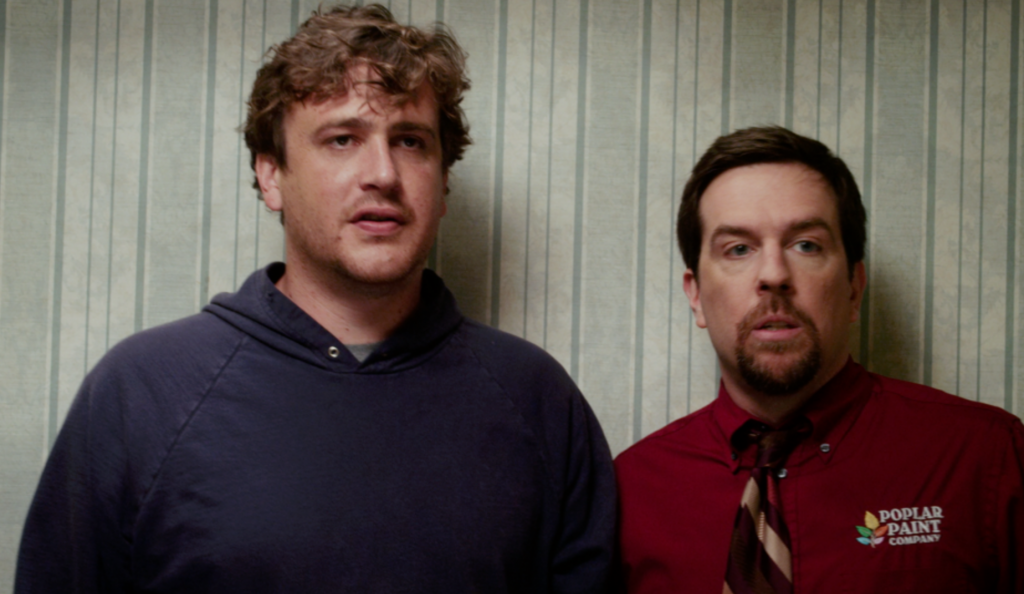 This is one of those smart, funny, rueful movies like "Cedar Rapids" and "The 40-Year-Old Virgin" where you sense that everyone involved truly cares about the characters. It's impossible not to join in the good feeling. Not that they're lovable right out of the box. What redeems the characters is that they all want to do better. The movie's gentle humor comes from their fumbling, befuddled efforts to rise above their lot in life. The film follows them over the course of a day when they face improbable challenges. Jeff, who takes coincidences as signs that the universe is sending him messages, steps into a series of increasingly improbable adventures.
My Blueberry Nights (not scheduled for 2018)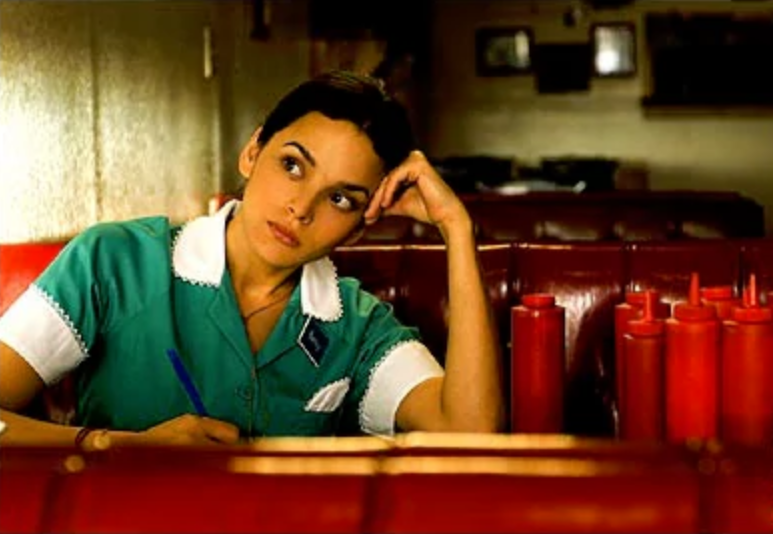 You taste "My Blueberry Nights" with your retinas. Lick up that luminous string of tart lime windows in the elevated train sliding through midnight-indigo New York. Savor the cranberry mist suffusing the atmosphere in the Memphis bar where they play Otis Redding. There are less appetizing things to look at for 90 minutes than this pretty pie-cart of a movie. How much further can this dessert metaphor be pushed? All the way to the end of the movie, it turns out. That's what you pay for, and that's what you get from Wong: luscious, colorful treats that are gorgeous to behold and easy to swallow. "My Blueberry Nights," his English-language debut, is his fluffiest confection. Even the shattered window glass from a romantic-tragedy car wreck sparkles in the street lamps like rock candy crystals. -Ebert
In a Better World (not scheduled for 2018)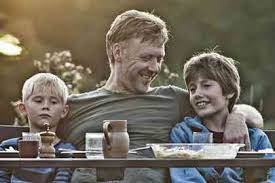 "Susanne Bier's latest meditation on grief and the boundaries of family — which won this year's foreign-film Oscar [2011] — is a tough piece of work, subtle in some ways, obvious in others, viscerally affecting throughout. " – Amy Biancolli "In a world of films dominated by the vastly overused sludgy teal-and-ochre grading, Bier's palette is a riot of clear, gorgeous blues and hot, vivid oranges. Barely a scene goes past without at least a detail in one or both colours," – Yasmeen Khan
Double Indemnity (February 2018)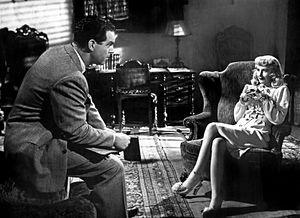 "Double Indemnity" has all the hallmarks of film noir – it's a moody, pessimistic crime story with strong overtones of spiritual bankruptcy and moral cynicism." Charles Cassady Jr. "Film noir at its finest, a template of the genre, etc. Billy Wilder in full swing, Barbara Stanwyck's finest hour, and Fred MacMurray makes a great chump." – Rob Fraser
Millions (August 2018)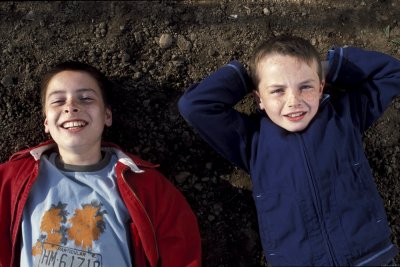 "It isn't the money's fault it got stolen. That is the reasoning of Anthony Cunningham, who at 9 is more of a realist than his 7-year-old brother, Damian. … a bag containing 265,000 British pounds bounced off a train and into Damian's playhouse and is currently stuffed under their bed. … a family film of limitless imagination and surprising joy, " -Roger Ebert "… an urbane, thoughtful fable of Lego-bright color, vast imagination and a stout belief in meaningful displays of humanity, charity and altruism without stooping to sermons." – Nick Rogers
The Battle of Algiers (July 2018)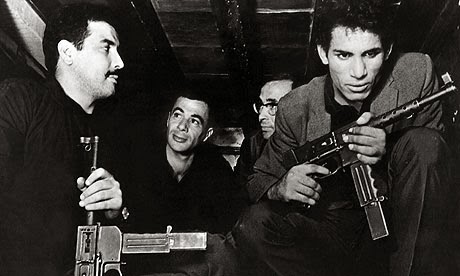 "… a great film by the young Italian director Gillo Pontecorvo. It may be a deeper film experience than many audiences can withstand: too cynical, too true, too cruel and too heartbreaking. It is about the Algerian war, but those not interested in Algeria may substitute another war; 'The Battle of Algiers' has a universal frame of reference." – Criterion
Limelight (September 2018)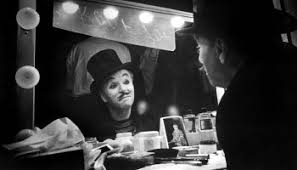 "Chaplin's masterful drama about the twilight of a former vaudeville star is among the writer-director's most touching films. … Calvero, a once beloved musical-comedy performer, now a washed-up alcoholic who lives in a small London flat. … meets a beautiful but melancholy ballerina (Claire Bloom) who lives downstairs. An elegant mix of the comic and the tragic, this poignant movie also features Buster Keaton in an extended cameo, … scarcely distributed in the United States upon its initial release, … it is now considered one of his essential and most personal works." – Criterion
The Gleaners and I (not scheduled for 2018)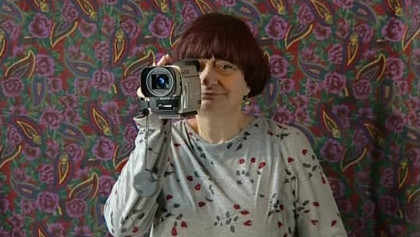 "Gleaners traditionally follow the harvest, scavenging what was missed the first time around. … The true gleaner, in [Agnes]Varda's eyes, is a little noble, a little idealistic, a little stubborn and deeply thrifty. … Agnes Varda of course is a gleaner herself. She is gleaning the gleaners. And in what appears to be a documentary she conceals a tender meditation about her own life, and life itself. … She told her friend Howie Movshovitz, the critic from Boulder, Colo., how she had to film and narrate some scenes while she was entirely alone because they were so personal. In 1993 she directed "Jacquot de Nantes," the story of her late husband [Jacques Demy], and now this is her story of herself, a woman whose life has consisted of moving through the world with the tools of her trade, finding what is worth treasuring." – Ebert
White God (not scheduled for 2018)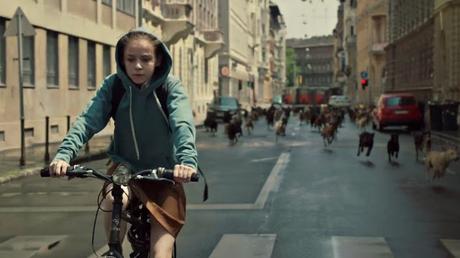 Imagine an "R" rated Lassie by way of Spartacus. That's Kornél Mundruczó's "White God," a brutal but stirring fantasy about street dogs rising up against cruel and indifferent humans … the film has a rare sense of the fairy-tale uncanny. … the simple plot is articulated with great clarity, this is mainly a film of moments. And what moments! Mundruczó's and his cinematographer Marcell Rev shoot Lili and Hagen's story with a documentary-like immediacy, … "White God" is an unabashedly mythic melodrama that's always chasing the big moment, the grand gesture, the overwhelming feeling. When Mundruczó cuts from a dog fight to a shot of escaped dog running down a dark street, the camera tracking ahead of him at pooch-level, the drums pound and the string section swells, and you can feel your heart race. What's wrong will be made right." – Ebert