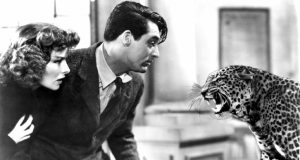 Katharine Hepburn and Cary Grant star in this inspired comedy about a madcap heiress with a pet leopard who meets an absent-minded paleontologist and unwittingly makes a fiasco of both their lives. David Huxley (Grant) is the stuffy paleontologist who needs to finish an exhibit on dinosaurs and thus land a $1 million grant for his museum.
At a golf outing with his potential benefactors, Huxley is spotted by Susan Vance (Hepburn) who decides that she must have the reserved scientist at all costs. She uses her pet leopard, Baby, to trick him into driving to her Connecticut home, where a dog wanders into Huxley's room and steals the vital last bone that he needs to complete his project.
Director Howard Hawks delivers a funny, fast-paced, and offbeat story, enlivened by animated performances from the two leads, in what has become a definitive screwball comedy.
~ Don Kaye, Rovi
We'll see you on February 21st and 28th at 7PM at the Aurora Fire Museum.